PROJECT: Waterloo Kung-Fu Academy
Website Redesign
Platform: WordPress
Features: Mobile & Tablet Responsive, Newsletter Creation & Management
Upgraded: 2016
Redesigned: 2013
Original Project: 2007
Completed for Waterloo Region's favourite local Martial Arts Studio, this mobile-responsive website markets to potential students and informs current students.
The latest version also includes functionality to create and manage newsletters from directly within the WordPress Control Panel.
An Evolving Website based on Continuous Improvement
A long-term client, WKFA's website has evolved with the Internet from a static HTML website, to a full, mobile-friendly, content management system.
2016 Updated Website – Homepage – Full-Screen View
The 2013 website redesign radically improved the WKFA website, migrating it to a WordPress content-management system. The website radically improved experiences for their users. In 2016, we chose to upgrade the WordPress theme that controls the website's design, incorporating several new features, including a new homepage slideshow.
2016 Updated Website – Homepage – Mobile View
The mobile-friendly version represented the most important improvement accomplished with the 2013 website redesign. But, we were not completely happy with the way the logo looked on the mobile view. The 2016 theme upgrade further improved the mobile experience.
2013 Redesigned Website – About Us page – Full-Screen View
Although the previous version of the website we designed for WKFA in 2007 (shown below) served them well for a number of years, the advent of social media, blogging, and mobile use, prompted the Academy to embark on a website redesign, which we launched in 2013. This new site automatically changes to fit small screens and allows the Academy to add new posts themselves via the WordPress Control Panel.
2013 Redesigned Website – About Us page – Mobile View
On mobile devices, the menu changes and the page elements stack one under the other.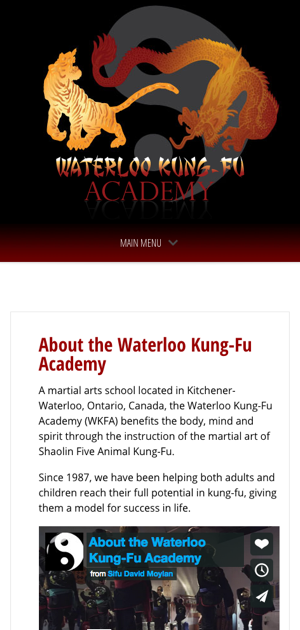 2007 Original Website Design
In 2007, Blue Orchard designed and launched this version for the Waterloo Kung-Fu Academy. Coded in standard compliant static HTML, it served the academy well for over half a decade.
Your Project Here.
Take the first step to making your project a reality.
What We are Doing...